A Music & Memory and Unforgettable partnership
Music & Memory has partnered with Unforgettable to develop this guide for the Unforgettable Music player and Digital Radio, but you can employ the principles of being a music detective to any digital music player that allows you to build your own playlist.
Get the FREE Ebook: "Finding the Right Music -
A MUSIC & MEMORY® Guide for your Unforgettable Music Player"
As we all know from hearing that song associated with a first love or leaving home for good, music is profoundly linked to personal memories. This guide will help you find the right music for the person in your care.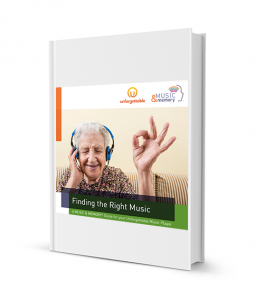 Get the "Unforgettable Music Player and Digital Radio"
Key Features:
The large, coloured buttons make it easy to operate and adjust the volume
High-quality digital sound to ensure music is played as it was meant to be heard
Features a clever Standby timer which turns the player off after a set period
Includes headphone socket for personal listening
Powered by mains adaptor or 4 AA batteries (not included)
Show or hide buttons to find the right level for your loved one