Music & Memory's personalized music program has been field-tested in thousands of care settings worldwide. As a MUSIC & MEMORY® Certified Care Organization, you will benefit from best practices training, peer-to-peer advice and support, and a wealth of resources — from policies and procedures to evaluation tools and forms.
The MUSIC & MEMORY Certification process
Dealing with daily workloads and challenges: difficult situations with residents or clients, medical emergencies, personnel shortages, mandatory paperwork, inescapable guidelines ensure a demanding, stressful working environment.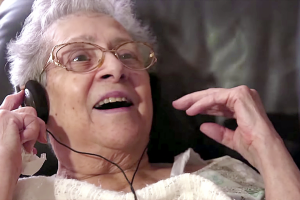 Let residents and clients experience joy!
Redeem time for personal care
Dealing with daily workloads and challenges: difficult situations with residents or clients, medical emergencies, personnel shortages, mandatory paperwork, inescapable guidelines ensure a demanding, stressful working environment.
Too often carers feel that they do not have time to offer personal care to residents and clients.
What if that could change? If valuable time could be recovered? What if the quality of life of residents could improve? What if you have another remedy that could reduce dependence on antipsychotics and other measures to restrict freedom? It is possible to structurally enter favourite personal music.
Digital personalised music can offer a solution
The Music & Memory  Certification Trajectory allows you to do this. Our personalised music method is based on extensive neuroscientific knowledge, on research into how our brain responds to music. It has been tested in hundreds of long-term healthcare institutions in the US, Canada and Europe and has proved effective. Our method appears to have therapeutic benefits for thousands of residents, clients and staff. Time and time again, healthcare professionals tell us that our program has changed their lives as employees and as people.
Digital Personalised Music can:
Give people with advanced dementia  pleasure
People in dialysis, ventilation or people are bedridden to  provide meaningful activity
Increasing cooperation and attention on the work floor, reducing resistance to  care- improving the atmosphere in your teams  , giving a boost to morale
Reduce agitation and sundowning
Involvement and social behaviuor  increase, to a  calmer social climate  lead
A valuable tool in the attempt to reduce dependence on  antipsychotics, anxiolytics and freedom-limiting drugs.
How the MUSIC & MEMORY  Certification Trajectory works
As a  MUSIC & MEMORY  Certified Healthcare Organisation, you and your team of healthcare professionals will learn best practices for setting up and managing a project that provides personalised playlists to every resident or client who might benefit from it.
A training with everything you need to know
You will receive a training session of a half day in the form of 3 live webinars of 90 minutes in succession. This is given by Manon Bruinsma, music therapist and founder of Music & Memory NL. The webinar enables you and your team to create an iTunes library that is suitable for working in institutions, efficiently manage multiple resident playlists, handle material and security, integrate personalised music into the daily care plans and the effectiveness of the program. to evaluate.
A year of coaching to make your project succeed
Music & Memory wants your project to succeed. The quality of our certification label depends on this.Starting a music project seems simple, but experience shows that all sorts of factors play a role if you want structural success with this approach in the long term. ICT questions, music rights issues, logistical questions, coming to the right music selection, creating and maintaining support within the institution, inclusion in daily care plans, financing a long-term project, dealing with turnover in your teams: the right knowledge and advice on this increase your chances success radically. Too often, new initiatives in health care are enthusiastically brought in, to collapse within a few months under the influence of the issues of the day. Music & Memory uses an extensive database of materials, experiences, evaluations and best practice in advising institutions that are certified. In order to guarantee this, in addition to the training you will also receive a year of coaching during the setting up of the project in your institution. This coaching takes place through a monthly online question time and through individual consultations via e-mail or telephone.
Our goal is to ensure that your healthcare institution starts a successful pilot program that can be scaled up and remains a success, despite changing staff, management, policy and budget cuts.
Unlimited access to the training
During the year after training you have the opportunity to have people in your location participate monthly in the webinars. In this way you can enable new employees and employees who could not participate in the 'kick-off' training to acquire all the knowledge needed to become a driving force behind the project.
Access to the knowledge base
After certification, you will receive login details for access to the knowledge base of Music & Memory. In these knowledge bases you will find our Best Practice Map of marketing materials, forms, guidelines and procedures that have been tested and proven in our certified institutions in the form of documents and forms that you can adapt for your institution, examples of logistic solutions from hundreds of nursing homes from all over the world, PR material for your project. We ask you to add the materials you develop to the Dutch knowledge base, so that a shared up-to-date database can help other institutions.
Eligible for donations, volunteers, research and PR
The network of Music & Memory is growing fast. Our contacts with parties outside the healthcare system make it possible to connect donors, volunteers and researchers with Music & Memory certified institutions. Press and media contact us to get in touch with institutions where examples of new initiatives in healthcare are successfully implemented.
As a   MUSIC & MEMORY Certified institution , you and your professional team will benefit from this.
You can:
Assigned as a receiving party for Music & Memory volunteers and mp3 players of fundraising activities in your region
Be eligible to receive donated mp3 players and iTunes credit cards that we receive from our national fund raising campaigns
Participating in and receiving results from our program evaluations and implementation studies; benchmark data and state-of-the-art best practices
Being approached by press and media via Music & Memory (if you appreciate)
Mention on our international website
After certification, the name of your institution is listed as a MUSIC & MEMORY  Certified Institution on our international website. Increasingly a wonderful source for Dutch families looking for care institutions that offer our program in their environment, whether or not as proof of a person-oriented way of working on a larger scale in your institution. It is our experience that setting up a personalised music project goes beyond the intervention alone: you have the opportunity to initiate or reinforce a positive change in mentality when you have your institution certified. This aspect is emphasised within the training.
The Certification Training Program contains:
Orientation and training for your entire implementation team in a 4.5 hour training given by MUSIC & MEMORY founder and music therapist Manon Bruinsma and UK CEO Simon Warner-Bore
A Q&A chat with Manon Bruinsma after the training is completed to fine tune the programme for your organisation
Regular online question hours to support your program for 1 year
One-to-one consultation by mail and telephone customised for 1 year
Access to the knowledge base
After successful completion of the training program, your institution will become a Music & Memory certified institution – demonstrably working in the front line of person-centered care for residents, clients and their families.
To get started fill out the form below and we will get back to you within 48 hours.